Summer is high season for innovative food festivals. Leading the pack this year is Portland's La Ruta PDX. La Ruta PDX is an industry and trade focused series of dinners and events that highlight the culinary culture of Spain. Taking place from July 13th through the 16th, La Ruta PDX will feature both Portland Chefs and Chefs travelling from Spain. Spain has a diverse culinary culture ranging from the traditional to the modernist and La Ruta PDX will highlight all that Spain has to offer.
We sat down with one of La Ruta's organizers, Chef and Cookbook author John Gorham of the Toro Bravo Group to find out more about the festival:
Why "La Ruta"? What does the name mean?
"The route" or La Ruta is most simply for me all about celebrating the amazing products that come from Spain that allow us to be creative and create the inspired foods, wines, drinks that we do.
Travel and international cuisine has always had a strong impact on me while on that journey to find myself, which I'm still on right? I want to celebrate Portland's trade route with Spain beyond Toro Bravo. I want to really acknowledge what a deep connection there is here between Portland and Spain.
What motivated you to start a Spanish food festival in Portland?
I've been doing a little taking stock and reflecting and it's really made me a bit sentimental about how many Spanish products we've been able to introduce to Portland — ingredients that most Portlanders had not even heard of 10 years ago. These Spanish foods and drinks, that were so hard to find then, are now on grocery store shelves here, restaurant menus, in folks' home pantries.
A great example is Spanish sidra. We wanted to put it on the menu right away at Toro and we had to get it from some back-alley vendor out of Boise because there's a really large Basque community there – you just couldn't find it anywhere in Portland. That said, the sidra that we got our hands on was literally a best use by dated for a year prior. It was ok but definitely not great as you can imagine. We used it though because it was sidra, after all, and we really wanted to offer that quintessential Spanish experience.
We just really want to celebrate these amazing products with this annual festival — these products that are at our fingertips every day now as a result of those early efforts.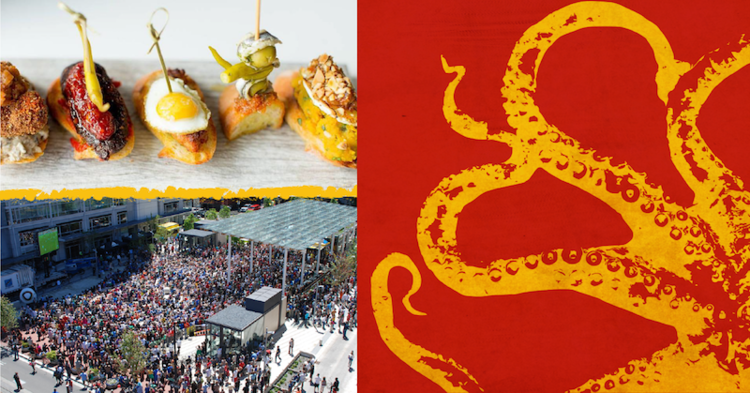 What's your vision of Spanish food and how does La Ruta support that?
At La Ruta we're going for a nice balance of traditional meets modernist gastronomy. That's a big part of the motivation for this festival. We are creating this experience in Portland so that festival attendees can discover on their own, and in a really fun and playful way, that Spanish food celebrates the old and traditional just as much as it loves the new and modern. To me, that's a big part of why Spanish cuisine is so exciting.
If you check out our festival lineup of participating chefs and winemakers you'll see some super modernist-leaning as well as super traditional chefs. And they all have my heart. In the early days of planning this festival we knew we wanted a really broad spectrum of chefs and winemakers that would give attendees a realistic cross-section of Spanish cuisine.
In Spain, every region has its own cultural history and cuisine as you know. So, this idea that there is one type of Spanish food, well, that's a pretty old and dusty notion that we'd like to help bury.
Slightly off-subject, is this finally going to be the long-awaited "Summer of Sherry?"
I think we've been kicking, screaming, and fighting to get sherry more on the US map since we opened Toro Bravo so, yes, I hope so. Mindy Cook, the beverage director for all of my restaurants, has done an amazing job curating a great sherry list for us and even though it's not the largest it's probably the most mature, respectable, and focused sherry list in the Pacific Northwest. It's a really strong part of our beverage program and it makes me happy.
I want to be really clear that this festival isn't just about sharing Spanish gastronomy from the kitchen side of things. We are hyper-focused on the beverage side as well. We have 100+ incredible Spanish wines being featured over the weekend and so many talented, renowned Spanish wineries, winemakers, importers, and distributors playing an integral part.
Why are you focused on Industry and Trade? Can I bring my non-industry friends?
Our philosophy as a restaurant group and my philosophy as a chef is that we're always throwing a party. That's the same for La Ruta PDX. There is nothing more inspiring than having fun while you learn something. So, yes, the gastronomic Feria & Trade Show on Saturday in Southeast Industrial District is primarily about the products and sampling them and meeting the makers and you are going to have a blast whether you are an industry professional or not while attending it.
This festival is all about human interaction. That's where the magic is.
Looking to learn more? Visit larutapdx.com for more information.